Ryan + Brittany
July 3rd, 2020
We still can't get over these lush florals that create exuberant pops of color, tying everything together in this Black Stallion wedding! From the matching bowtie, to the lounge setup, this lively color palette pairs perfectly with the Corolla backdrop.
FEATURED VENDORS
Photographer | Sarah D'Ambra Photography
Coordinator | Southern Hospitality Weddings & Events
Ceremony & Reception Venue | The Black Stallion
Floral & Decor | Flower Girls OBX
Caterer | Red Sky Cafe
Bar & Spirits | Camp Cocktail
Equipment Rentals | Amaranth + Artifact and Ocean Atlantic Event Rentals
DJ | DJ Bruce
Videographer | Heart's Home Films
Accommodations | KEES Vacations
Why did you choose the Outer Banks for your wedding?
The Outer Banks was a surprising choice for our wedding because it didn't hold much significance for us, especially because it was quite far from our home in New York City. Though we both went on a few vacations there growing up, we never visited together. Yet for some reason, when we stumbled upon The Black Stallion in OBX, it all just felt right. The Outer Banks was the perfect place for our East Coast-based families to get away for a week-long celebration with us.
Planning and holding a wedding during the pandemic created almost a comical level of stress and organizing on top of what is normally a pretty challenging time for couples. The amount of options we ran through were dizzying. Delaying, cancelling then waiting for "normal times" or completely re-thinking the wedding. Luckily we had the BEST vendor team, especially Ashley Earnhardt at Southern Hospitality, who kept us informed of the local situation as it changed week to week.
Ultimately, we were able to go through with our wedding, but not without modifications. To keep our loved ones safe, we asked our attendees to adhere to a lot of protocols which many could not adhere to. There were also quite a few immunocompromised family members that we had to boot from our big day–including the bride's mother. We did set up a zoom for anyone joining remotely, which at the time was a relatively new concept but allowed even more of our friends and family to participate in our special day.
Although when we chose The Outer Banks for our wedding we certainly did not imagine having a pandemic to contend with, we had so much fun and our wedding was as perfect as it could've been. The food by Red Sky–which we'd never tasted before our big day–was amazing, the flowers by Flowers Girls OBX were the most breathtaking and Amaranth and Artifact along with Camp Cocktail created the perfect vibe for our guests. While we do wish more of our friends and family could've experienced such a fun time in The Outer Banks, we'll have a great story for our grandchildren one day and the perfect excuse to visit again over the years.
Brittany and Ryan's wedding is featured in the 2021 issue of Outer Banks Weddings! To request a free copy of the magazine, click here.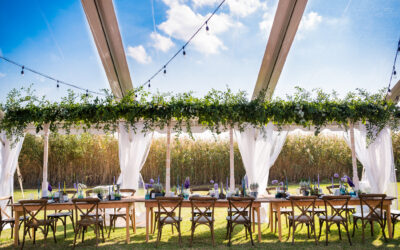 From the lounge seating and florals, to the cake and fresh seafood, Alexandra and Nicholas' elegant soiree was something out of a dream.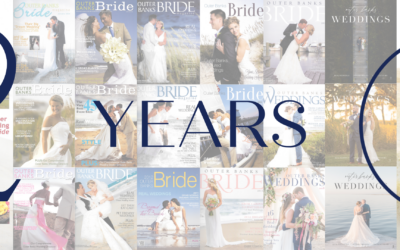 Our latest issue marks the 20th Anniversary of Outer Banks Weddings magazines. Get yours today at obxwa.com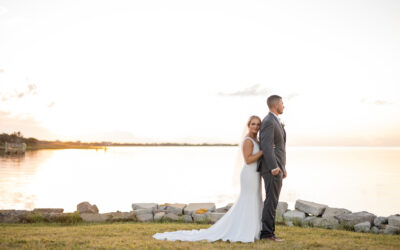 The couple wed at the end of the dock at their venue while their guests looked on, surrounded by panoramic views of the Pamlico Sound.