From working alongside many of her vendors, to having them all there on the day she said her own I Do's, Nicole knew that the wedding she envisioned wouldn't be possible without their help. The couple wed at the end of the dock at their venue while their guests looked on, surrounded by panoramic views of the Pamlico Sound. Gold accents added the modern edge to their somewhat rustic decor. 
See the video and photos captured during their wedding day below.
FEATURED VENDORS
Accommodations + Venue | The Inn on Pamlico Sound
Beauty + Spa | Southern Blush Beauty
DJ | Outer Banks Wedding Entertainment
Equipment Rentals | Ocean Atlantic Event Rentals
Floral + Decor | I Do OBX Weddings & Events
Officiant | I Do OBX Weddings & Events
Photographer | Ryan & Rach Photography
Videographer | Heart's Home Films
Please tell us more about your wedding and what made it special to you. 
Our vendors! We literally picked our wedding date based on our vendor's availability. Since we work in the industry, picking vendors was honestly the hardest part because everyone is so great but we ended up with our dream team. 
We chose to have a smaller wedding to keep it more intimate. With the ever changing COVID mandates, we thought a smaller wedding was just the best way to minimize stress. I am so happy we kept it small. It gave both of us a chance to really enjoy the day with our closest friends and family.
Please tell us why you chose the Outer Banks for your wedding.
We always wanted a destination wedding in the Florida Keys. But when it came time to book a venue, we quickly realized the vendor team we wanted was here and that was the most important thing to us. That is why we chose Hatteras. It felt like a destination wedding, but still an easily accessible venue for our vendors and guests. Even though we live in the Outer Banks, we still booked houses for a week and turned our Tuesday wedding into a week-long celebration. Neither of us had ever been to the Inn on Pamlico Sound before. but after our one-night stay for our tour, we knew it was the place for us.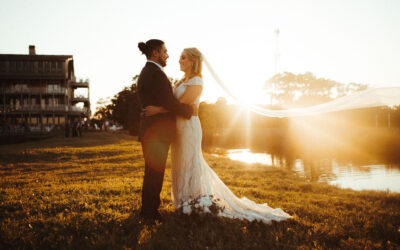 Annika and Tyler's sunset nuptials overlooking Shallowbag Bay was a sight to be seen! See more of the photos of their wedding at obxwa.com/blog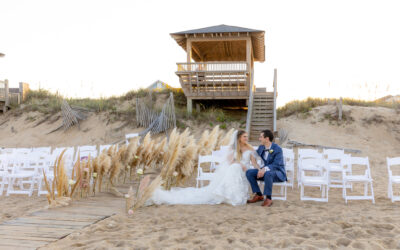 Amanda and Chris' fanciful affair had all of the bling and bold decor! See more of the photos of their wedding at obxwa.com/blog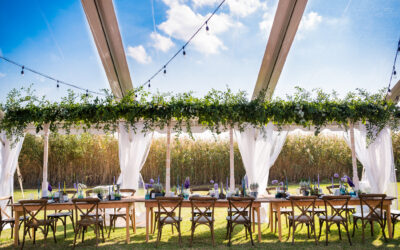 From the lounge seating and florals, to the cake and fresh seafood, Alexandra and Nicholas' elegant soiree was something out of a dream.