Being a planner and an overall design maven, Mandy did not miss a beat when it came to planning her very own wedding, right in her stunning sound front backyard. Ceramic, jute and bright white elements transported the happy couple and their guests to what appears to be a very high-class, garden party. 
See the video and photos captured during their wedding day below.
FEATURED VENDORS
Photographer | Ryan & Rach Photography
Beauty + Spa | Glimmer Hair & Makeup
Caterer + Restaurant | Red Sky Cafe
Coordinator | Heart of Harlow, Southern Hospitality Weddings & Events
Disc Jockey | OBX Wedding DJ
Equipment Rentals | Amaranth + Artifact, Metro Rentals, Ocean Atlantic Event Rentals, Renee Landry Events
Floral + Decor | Honeysuckle Events
Photo Booth | OBX Bright Booth
Specialty Services | Heart of Harlow
Videographer | Swell Productions
From the Couple
Tell us more about your wedding and what made it special to you.  
Being an Outer Banks wedding coordinator, I had a good idea of what I wanted our wedding to feel like — warm, fun, and ethereal. 
After a year of lockdown and postponements, we wanted to share our home and the beautiful Outer Banks with our family and friends. We brought in ceramic, jute and linen through design elements and rentals to elevate the backyard look and create a wedding with colorful flowers and neutral undertones. 
Our cocktail style reception worked great for spreading out in the yard and getting to catch up with everyone organically. Highlights of our day were that magical 75 degree October weather, dancing under a disco ball and continual cocktail style food throughout the night! All of our vendors crushed it and went with our vision!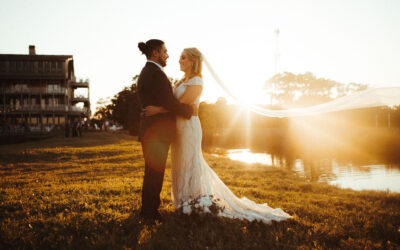 Annika and Tyler's sunset nuptials overlooking Shallowbag Bay was a sight to be seen! See more of the photos of their wedding at obxwa.com/blog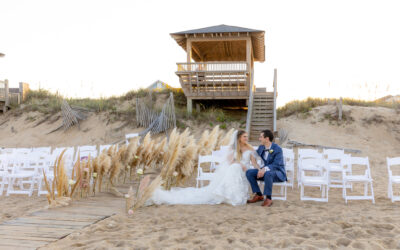 Amanda and Chris' fanciful affair had all of the bling and bold decor! See more of the photos of their wedding at obxwa.com/blog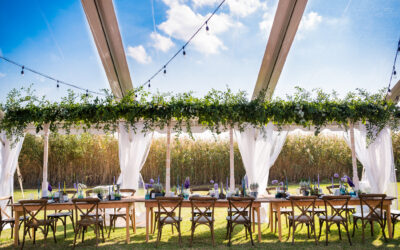 From the lounge seating and florals, to the cake and fresh seafood, Alexandra and Nicholas' elegant soiree was something out of a dream.