dawn & brian
September 4th, 2020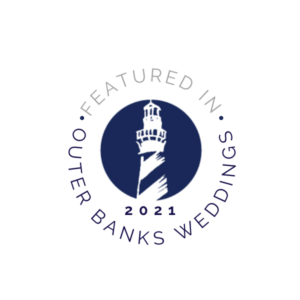 Accompanied by their photographer and officiant, Dawn & Brian's intimate, scenic elopement was something of the utmost envy. Their dream of an unconventional location lead their vendor team to arrange a private ceremony atop the boulders near the Old Coast Guard Station. Her dreamy, cascade bouquet only accentuated the natural beauty that surrounded them. A surprise cake cutting and champagne toast was the perfect ending to their twilight hour sparkler send-off.
Photographer | Basnight Photography
Officiant | Imogene Russell – OBX Wedding Officiant
Floral & Decor | Honeysuckle Events
Beauty & Spa | Southern Blush Beauty
From the couple:
"We have been visiting the Outer Banks annually since we started dating and we even got engaged there in 2019. We originally planned a large wedding in Pennsylvania, but we decided to postpone due to COVID. We wanted to make the best out of the situation and elope at the one place that has forever been special to us. Our wedding was better than we ever imagined. Between the beautiful weather, sea oats, and incredible views, we could not have asked for more."
by Jeremy Russell of Outer Banks Wedding EntertainmentSpin it to Win it: Why You Should Hire a Professional DJ by Jeremy Russell of Outer Banks Wedding Entertainment There you are. Your heart is pounding, the butterflies in your stomach start to flutter, and...